Fisker Skanderborg A/S runs a service team, working with new assembly, maintenance, and problem solution. For new assembly, customer staff will be trained on customer site.
All our service technicians have been trained in analysis and problem solution for installation and repair of systems supplied by Fisker Skanderborg A/S. Fisker Skanderborg A/S service technicians are all capable of programming the various types of PLC's used in Fisker Skanderborg A/S products. Further, all our technicians have a thorough knowledge of pneumatics and hydraulics as well as general mechanical functions of the machines.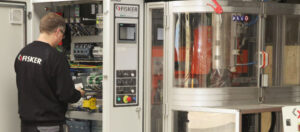 Service aggrement
Fisker Skanderborg A/S offers all our customers a service agreement. This service agreement aims at providing continuous operation without any unforeseen stops. This is achieved by providing effective service to our customers at regular visiting intervals.
For most of the machines, Fisker Skanderborg A/S is in a position to offer a modem. To meet any problems at our customer's place, we may soon troubleshoot and solve any such problem from our office. Also, minor adjustments and changes may be effected via the modem.
Contact us
Email: service@fisker.as
Tel: +45 87 93 82 22