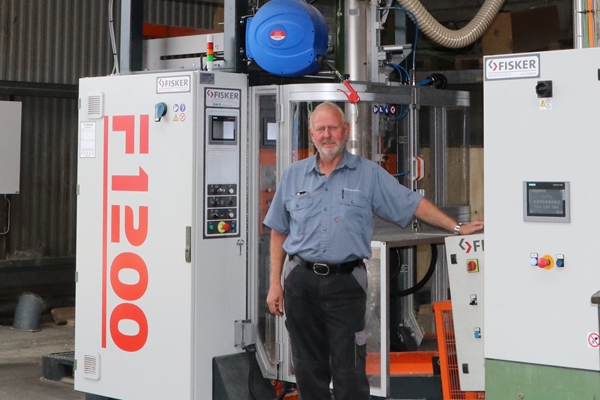 Fisker Skanderborg responded quickly and installed a new bagging machine and weigher at Guldager Energi A/S, when the existing machine was destroyed by fire. As a result, the customer avoided months of production standstill.
One Sunday morning, a forklift truck parked next to the packing line caught fire. The fire at Guldager Energi destroyed a bagging machine and a weigher on the wood pellet packing line. Managing Director Palle Guldager therefore faced several months of packing line standstill, as the delivery time for new machinery is normally very long.
Prompt contact to Fisker
After the accident Guldager quickly decided to contact Fisker's technical manager, Lasse Høgh, to hear what Fisker could do about re-establishing the packing line as soon as possible. "The delivery time of the bagging machine model F1200, which is what Guldager has, is normally three to five months," says Lasse Høgh. "Today more than 75 bagging machines of this particular model are operating at our customers' premises, and we had bought a spare to keep 'in stock'. We could therefore offer to install it at Guldager. The same applied to the weigher."
Up and running in 10 days
Service technicians from Fisker worked flat out, and in the matter of 10 days the packing line was ready to commence packing wood pellets again. "As part of the process, our technicians had to dismantle the old, burnt out packing line, produce, paint and install a new construction for a conveyor and connect the bagging machine and the weigher to the customer's other equipment," says Lasse.
A satisfied customer
Palle Guldager is extremely satisfied with Fisker's quick response, and the entire plant was up and running again in less than two weeks. "A production standstill is very costly for both our customer and their insurance company," says Lasse. "We are therefore very pleased that we were able to assist the customer so quickly. We are always prepared to go the extra mile to give our customers the best possible service."