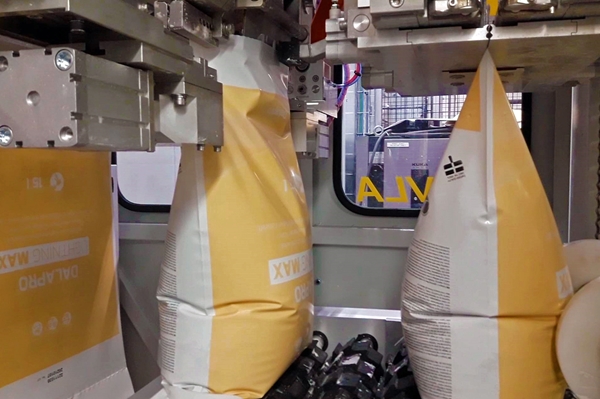 The Swedish company Scanspac is a leader in Europe in the development of tomorrow's surface treatments for walls and ceilings. Working in collaboration with Fisker, Scanspac has developed a new concept for the packing of spray plaster, which optimises the work process at Scanspac's customers' locations.
The development of spray plaster packed in bags instead of the plaster traditionally 'dug' out of a bucket, has had a positive impact for professional painters. Scanspac (Saint-Gobain Sweden AB) is a leader in the European market and their spray plaster is sold to professional painters in the whole of Europe.
New design of packing line
Scanspac wanted to optimise the packing of their spray plaster and therefore entered into a collaboration with Fisker to develop a new concept. "We've been through several phases, both relating to the design of the packing line and the development of a specially built electronic unit for measuring the production flow," CEO Peter M. Henningsen explained. "We ended up with packing of spray plaster in tubular film that is adapted for the task, which is a replacement to valve bags. It has had a very positive impact on the daily work with spray plaster for Scanspac's customers"
More sustainable solution
The new concept is also more sustainable because of the reduced consumption of material for packing and at the same time, tubular film is both less expensive and a better choice for packing spray plaster.