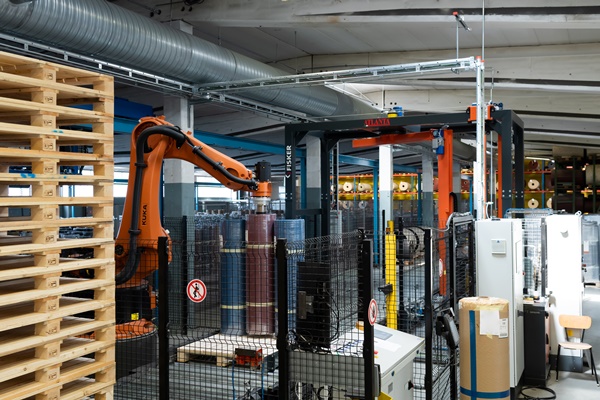 Fisker has successfully supplied a large packing plant for several companies near the Swedish town of Markaryd. Ekamant, another company in the town, heard about it and therefore contacted Fisker with a view to collaboration.
Ekamant is the largest manufacturer of sandpaper in the Nordic countries, dating as far back as 1928. Today they have customers in more than 50 countries all over the world. Ekamant is based in Markaryd in Småland near the border with Skåne.
Contact with Fisker
Fisker has extensive collaboration with several companies in the Markaryd area, which Ekamant's Logistics Manager Jonas Nilsson had heard positive comments about. He therefore decided to contact Fisker with an enquiry for an end-of-line transport solution for their production line.
"Our customers often enquire about end-of-line packing solutions for bags or sacks," says Managing Director Peter M Henningsen from Fisker, "but the enquiry from Ekamant was for a transport solution to be associated with their packing line.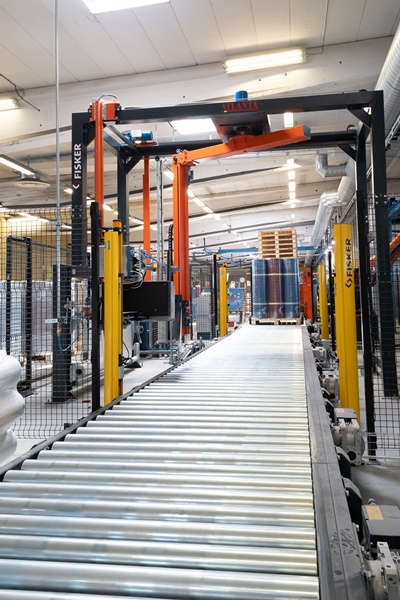 Enthusiasm for Fisker's solutions
Ekamant was very enthusiastic about Fisker's robust and incredibly durable end-of-line transport solutions. "Our solutions are often used in very demanding industries, where they are exposed to heavy wear and tear," says Peter M Henningsen. "At Ekamant we are dealing with rolls of sandpaper, which is a product in a completely different weight category." Nevertheless, top-quality, durable transport equipment for heavy industry is still very valuable."
Valuable, competent collaboration
Today, Ekamant uses a flexible Fisker solution, operating with different pallet sizes at the same time. Jonas Nilsson highly appreciates the collaboration with Fisker.
"We had very productive discussions, and Fisker made some excellent suggestions that improved our own original proposal," he says. "They also discussed the solution with the other suppliers involved and helped us coordinate the whole process.
The solution is functioning to our full satisfaction and has streamlined our process considerably. Today, three employees can operate the solution compared with the previous eight. The remaining five operators have either been moved to different roles or left the company as part of natural attrition.