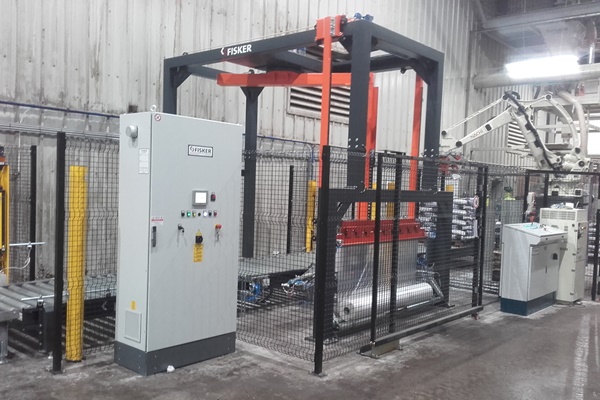 Balcas has just installed a fully automatic packing line for wood pellets. The line was supplied and installed by Fisker, who has extensive experience with packing lines for bags and sacks.
Balcas Limited is one of the UK's largest suppliers of wood products. The production of wood pellets is one of their core competences.
Fully automatic plant
Balcas has previously purchased a bagging machine from Fisker, and the two companies have since been in regular contact about the further development of the packing line. In 2018, Balcas decided to automate their wood pellet packing machine in order to reduce the amount of manual work and improve productivity.
Pellet Plant Manager Mark Abraham contacted Fisker, who subsequently supplied and installed a robot palletiser, an automatic stretch film wrapper as well as conveyor belts for accumulation, etc. The end result was that Balcas has acquired exactly the type of line they wanted.
Extensive experience
Fisker has extensive experience with wood pellet packing machines, and Sales Manager Peter M. Henningsen is pleased to see that Balcas chose to collaborate with Fisker on the further development of the packing line. "We are always pleased to see our customers returning to us. It is a huge advantage for the customer that we know their existing equipment while at the same time having the experience to recommend the right equipment when a packing line needs to be upgraded," he says.
Successful collaboration
Balcas is also very positive about the implementation of their new packing line. "I am completely satisfied with the entire planning and assembly of our now fully automatic packing line," says Mark Abraham. "There were only minor bumps along the way, which is to be expected with a project like this, and Fisker deserves a 10 out of 10 for the job.