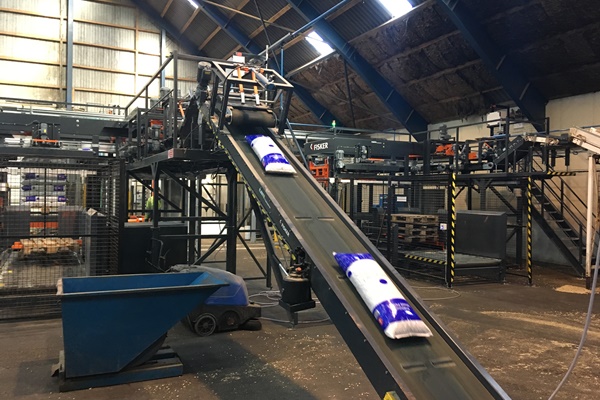 Shipping.dk has updated its first packing line for the packing of wood pellets in bags with a new palletising system. The updated packing line is an excellent supplement to the complete packing line supplied by Fisker at the beginning of 2018.
Shipping.dk is one of Denmark's leading shipping and logistics companies. The company enables its customers to combine the advantages of sea transport with the possibility of preparing their products for distribution to the end users. This activity is carried out at several packing lines, where the customers' products can be packed in bags in accordance with their individual needs.
At the beginning of 2018, Shipping.dk increased its capacity from one to two packing lines, and Fisker Skanderborg was responsible for developing, supplying and installing the new line, in addition to adapting the existing line, for instance by replacing the roller conveyors when combining the two packing lines.
Updated line
In connection with their need to buy a new palletising system, Shipping.dk chose to continue its excellent collaboration with Fisker, who supplied a palletising system that precisely matches the customer's needs. "We are very pleased to continue our excellent collaboration with Shipping.dk," says Sales Manager Peter M. Henningsen. "It is always a pleasure to be able to grow together with a customer."