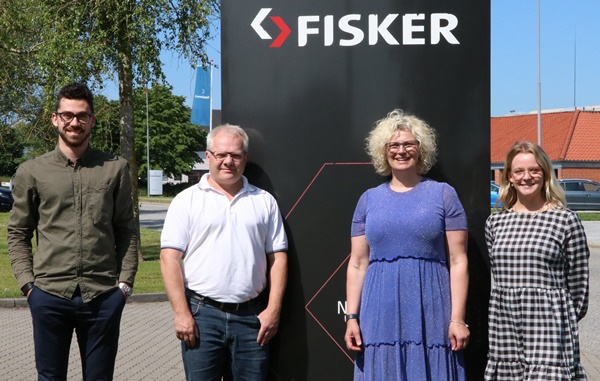 As far as staff is concerned, Fisker regularly supplements existing skills in the project department.
In the picture from left: Project assistant Mattia Lenotti, Manager of project department Klaus Jensen, Project manager Inga Jensen and Documentation Assistant Maja Mohr Therkildsen.
Brian Frisk was on customer visit when the photo was taken
Project manager Inga Jensen
In the past year, Inga Jensen, our experienced manager of documentation, bridge builder and Jill of all trades, has acquired additional skills and moved on to become first project assistant and now project manager. Both Inga and her colleagues have completed a valuable learning process, which has improved their skills in handling customer expectations and managing complex projects.
Robotics technician Brian Frisk
To help with the completion of our robotics projects, Brian Frisk has been transferred from our service department to the project department.
Brian's main responsibilities will be:
– Designing custom-made robotics projects, setting up and carrying out tests
– Supporting the risk assessment of robotic cells
– Defining standards for concepts and user-friendliness
– Robot optimisation and user-friendliness
– Discussing technical solutions and development with project managers
Project assistant Mattia Lenotti
Italian Mattia Lenotti has been employed as a project assistant to strengthen collaboration with our Italian suppliers, including coordinating supplies, booking specialists for installation and commissioning and assessing the need for technical support.
Mattia is studying engineering at VIA University College in Horsens.